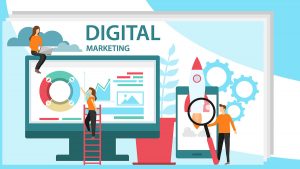 The "WHY" of Digital Marketing
Dynamism in trends, strategies and technology is inexorable as new ideas and inventions come daily to help live a better life. Your business deserves the best. Your existing business merits being better. Competitors are another reason why your marketing techniques should go digital. Your business has to stay up to date for it to remain in the long run.
How do you go about it?
Simply leveraging on digitization. Extending your market beyond the physical space to online mediums where you can get a wider reach of target audience. Superb right? You're now a digital marketer.
Anyone can be a digital marketer but would you want to get preference? Digital marketing training skills need to be acquired. Certification also boosts confidence in that area. Ready to uplift you, Abuja Data School is set with its digital marketing course to get you equipped to be an outstanding marketer.
The "WHAT" of Digital Marketing
Digital Marketing is a form of marketing through which you advertise to people digitally, encouraging company-customer relationship as well as managing feedback. In layman's terms, it is known as "online marketing"; moving physical business interaction to the internet or through any device that can support what is being promoted. It requires understanding customer behavior, not how great you think your products or services are.
Digital marketing differs from internet marketing although both of them use online platforms and technologies to fuel similar purpose(s). Internet marketing is creating awareness on the internet. For this, you would need your smart device, data connection and the like to get your message to a targeted audience.
On the other hand, digital marketing is any advertisement or promotional activity that is compatible with digital devices and other elements like phone applications, etc.
Internet marketing strictly adheres to dealing with the internet while digital marketing uses devices be it for online or offline activities.
Inasmuch as this new form of marketing is quite different from the traditional marketing, its activities are not entirely new. It is only an advancement to the traditional pattern of marketing.
The "WHO" of Digital Marketing
Digital Marketing has a face. One who creates, plans and strategizes channels to reach customers, build brand awareness and promotes businesses all through digital means is a Digital Marketer. The role of a digital marketer is also to monitor performance and manage the mediums through which promotional services are carried out. The roles are inexhaustible which is even a skill to develop a career in. Nonetheless, they are what makes the advertisement more productive.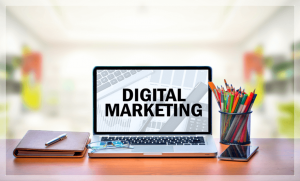 The "HOW" of Digital Marketing
Any medium through which a digital marketer explores his skills to meet a targeted audience who are willing to patronize his product and service offering refers to the Channels of Digital Marketing. There are many names to call this; 'medium', 'methods', 'means' but they are all ways to market digitally. These channels can be used to lead to another marketing platform they are; Search engines, Website marketing using sites to reach receivers, Social media platforms like LinkedIn, Instagram, TikTok, Twitter.
Types of Digital Marketing
With the intention to bring products and services to target audience doorstep, various channels as mentioned earlier are used which form the types of digital marketing. Bear in mind also, that every type is unique to what you have to offer and your expectations from the audience. There are 6 types of digital marketing as explained below:
Content Marketing:

is a way of passing information to the target audience through written texts, videos and other media. Anything could inspire content as long as messages intended to pass are relevant or pointing to what holds value. Blogs, videos, infographics, podcasts, checklists, e-books, case studies are examples of content used in digital marketing.
Social Media Marketing:

the lifestyle of engaging with social media platforms has become a norm. On Average, smartphone holders have social media profiles and tend to check their page(s) at least once a day. Taking advantage of it as users interact brings your brand to their awareness. Meta formerly Facebook, LinkedIn, Pinterest, Snapchat, Instagram are great tools for business success if well understood on how to optimize them. By the digital marketing training in Abuja Nigeria, you get to be taught the proper social media to engage your brand that will pull traffic and engagements.
Email Marketing:

Email marketers through sending mails engage potential and existing customers. Email personalization gives a feel of uniqueness to the recipient. This way draws their attention to your advertisement. Mobile friendly emails have a higher percentage of being looked into by recipients.
Affiliate Marketing:

this is the oldest form of marketing where customers have the chance to earn more through spreading and inviting others. Successful promoters earn commission per invite. They promote the brand or product to audiences through sign-ups, subscriptions and patronage.
Video Marketing:

makes advertising much easier giving a visual display of products and services. It's less time-consuming and easy to understand on-the-go.

Short Message Service (SMS) Marketing

: Sending information and opportunities in form of short texts through phones to willing customers.
Users of digital marketing
Private businesses.

Companies.

Public enterprises.
Satisfactions of Digital Marketing
Less expensive than the costs of setting up traditional stores, outlets and aesthetics.

Convenience buying.

Customer understanding and interaction beyond the immediate region.
Challenges of Digital Marketing
Getting receivers attention due to inundating ads and interrupting pop-ups.

 

Channel optimization issues.

Misunderstanding customer's behavior.
Digital Marketing Strategy
Digital marketing strategies are plans that show how your business will achieve its goals using online channels.
Search Engine Optimization (SEO) using specific search keywords to make customers see your content. This makes your audience understand your brand, find results and get more information. E-commerce, organic search by text, local SEO using close ranges or 'near me' keyword, voice search through search engines are SEO options. SEO strategy is very important.
Search Engine Marketing(SEM) also referred to as Pay-Per-Click(PPC) advertising. It is a strategy that gets visibility from both organic and paid searches. Unlike SEO, which optimizes websites in order to get traffic from organic search results or Search Engine Results Pages (SERPs), Pay-Per-Click directs to a site with ads paying for every click made.
Social Media Optimization (SMO) is a strategy that optimizes social media platforms to convey messages and grow online presence using keys like hashtags and trends.
Conversion Rate Optimization (CRO) is a strategy that transforms visitors to customers through making an actual purchase, using call-to-action or downloading products online. Conversion rates are high at first 5 seconds of opening the landing page, it improves the sales conversion of visitors to a website or app.
Digital optimization is important to meet customer's needs, grow businesses and generate revenue. If not well planned, gains will not be easy to come by and as such the business goals online will not be achieved. It ranges from Blogging with SEO to tracking performances and engagements to investing in content for desired results.
Tools of Digital Marketing
 

Content quality.

SEO, which makes web pages attractive to search engines.

User engagement.

User-friendliness etc.
Careers in Digital Marketing
Digital Marketing Manager.

Content Marketing Manager.

Inbound Marketing Manager.

Content Strategist.

SEO Specialist.

SEM Specialist.

User Experience Designer.

Data Analysts.

Email Marketer.

Social Media Manager.

Search Engine Marketer.

SEO Expert.

Conversion Rate Optimizer

Copywriter.
Get certified at Abuja Data school today!