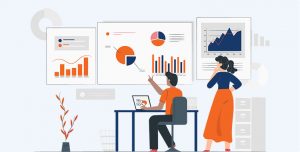 Data visualization is important in assisting businesses in quickly realizing data movements and trends which would otherwise be an obstacle. The pictorial representation of data sets allows analysts to visualize new perspectives. With the increasing surge in data every day by day, considering the enormous amount of data, it can only be sorted and processed easily with the aid of data visualization, its techniques and tools. A dashboard, graph, infographics, map, chart, video, slide, etc. All these mediums can be used for visualizing and understanding data. Visualizing the data enables decision makers to compare the data to find better insights and deduct the importance of data visualization.
Analyzing reports helps business stakeholders focus on the areas that require attention. The visual mediums help analysts understand the key points needed for their business. Whether it is a sales report or a marketing strategy, a visual representation of data helps companies increase their profits through better analysis and better business decisions.
Also, humans process visuals better than any tedious tabular forms or reports. If the data communicates well, decision-makers can quickly take action based on the new data insights, accelerating decision-making, and business growth simultaneously.
More so, data visualization allows business users to gain insight into their vast amounts of data. It benefits them to recognize new patterns and errors in the data. Making sense of these patterns helps the users pay attention to areas that indicate red flags or progress. This process, in turn, drives the business ahead.
What are the purposes of data visualization?
The purpose of data visualization is pretty clear. It is to make sense of the data and use the information for the organization's benefits. That said, data is complicated, and it gains more value as and when it gets visualized. Without visualization, it is challenging to quickly communicate the data findings and identify patterns to pull insights and interact with the data seamlessly.
Data visualization strengthens the impact of broadcasting messages for your audience and presents the data analysis results in the most persuasive manner. It spreads the broadcasting system across all the groups and fields within the organization.
Visualization lets you comprehend vast amounts of data at a glance and in a better way. It helps to understand the data better to measure its impact on the business and communicate the insights to the audience.
Data visualization tools and its benefits
Data scientists can find patterns or errors without visualization. However, it is crucial to communicate data findings and identify necessary information. For this, interactive data visualization tools make all the difference.
Effective data visualization tools are the key to unlocking big data. It can solve any data inefficiencies and easily take in huge amounts of data presented in visual formats.
By enabling users to understand data rapidly, visualization tools can quickly increase the speed of decision making as well. Timely actions result in averting any losses in the business.
A big reveal for any differences in the trends and patterns is vital for any business's survival. It is critical to know what is causing increased losses or what is required to maximize gains.
Data visualization tools assist in exploring business insights to achieve business goals in the right direction. It helps to correlate the data from the visual representations or graphical representations. It allows for fast analysis and instantly digests critical metrics.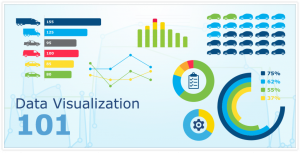 It enables enterprises to stay on top of their game by discovering the latest trends through data visualization tools.
Without data visualization, businesses would have to spend much of their time customizing reports and data. The benefits of Data visualization tools optimize and instantly retrieve data from reports, thereby saving a lot of time.
Why Tableau for data visualization
Identifying the areas that need attention or improvement has become an essential part of any business process. However, it becomes quite tedious to detect factors that influence customer behavior and areas of improvement. Organizations need to act on data faster and more effectively to identify new business opportunities ahead of the market. They require the ability to access, evaluate, and comprehend their data to seek insights from them.
Tableau, a data visualization tool, offers new approaches to radically improve the ability to fetch hidden information. It leverages visual analytics that allows users to interact with data. By leveraging Tableau, users can visually interact with data to get insights faster, and make critical decisions. Tableau makes interacting with your data easy
Tableau is a very effective tool to create interactive data visualizations very quickly. It is very simple and user-friendly. Tableau can create complex graphs giving a similar feel as the pivot table graphs in Excel. Moreover, it can handle a lot more data and quickly provide calculations on datasets.
Users can create visuals quickly and switch between types easily to find the model that best represents your message.
It also aids users to manage a huge amount of data. It can create visualizations for a large amount of data without crashing. Also, the user interface is well-organized which allows customizing the view with a few clicks. It is extremely easy to integrate with multiple data sources.
Power BI for data visualization
Power BI is a data visualization tool that allows you to quickly connect your data, prepare it, and model it as you like. It gives you the power to transform all your data into live interactive visuals, create customized real time business view dashboards, thus extracting business intelligence for enhanced decision making. You can visualize data and share insights. This tool allows you to embed your custom visualizations into your app or website, connect to hundreds of data sources like excel, google analytics, IoT devices for real time data etc.
A major benefit of power BI is that it is one of the data visualization platforms that allows the development of better information presentations and designs whether they are charts, reports or other forms, as well as ensuring the security of the data. In other words, this set of applications enables the development of interactive graphic representations that promote the understanding of the information. In addition, power BI allows the personalization of all panels and reports and includes a data security system that protects the information and facilitates data management. Another advantage of power BI is that it encourages data integration, since it has the capacity to collect data from many sources and in any format either from a local software or digital platforms
Understanding Dashboard for visualization in Microsoft excel
What are Excel Dashboards?
Excel dashboards make it easy to perform quick overviews of data reports rather than going through large volumes of data. Helps in making quick and urgent decisions since one can skim through a lot of information at once and within a short time.
The dashboards help in tracking Key Performance Indicators with ease, which helps organizations track the progress on their targets in their businesses. They provide a high level summary of key aspects of your data to keep everyone in line with the progress, hence giving the organization a timely indicator for necessary action in real time.