Cloud computing covers a vast range of options in the field of tech nowadays, from the basics of storage, networking, and processing power through to natural language processing and artificial intelligence as well as standard office applications. Most especially any service that does not require you to be physically close to the computer hardware that you are using can now be delivered via the cloud. In other words, cloud computing allows you to rent instead of buy your IT. Rather than investing heavily in databases, software, and hardware, companies opt to access their computing power via the internet or the cloud, and pay for it as they use it. These cloud services now include, but are not limited to, servers, storage, databases, networking, software, analytics, and business intelligence. Cloud computing provides the speed, scalability, and flexibility that enables businesses to develop, innovate, and support business IT solutions. Abuja data school is able to provide you with professionals who are majors in this field, they will be broadening your knowledge on cloud computing and how it can help you save your business some stress and also better data analysis accuracy. Abuja data school will be taking you thoroughly through cloud computing training in abuja and how it will change your life activities completely in a well mannered culture.
Types of cloud computing
Below are different types of cloud: Public, private, and hybrid. Each type requires a different level of management from the customer and provides a different level of security. The cloud computing training in abuja data school will also be expantiating and breaking down for you, the different types of clouds and how they work.
Public cloud
In a public cloud, the entire computing infrastructure is located on the premises of the cloud provider, and the provider delivers services to the customer over the internet. Customers do not have to maintain their own IT and can quickly add more users or computing power as needed. In this model, multiple tenants share the cloud provider's IT infrastructure.
Private cloud
A private cloud is used exclusively by one organization. It could be hosted at the organization's location or at the cloud provider's data center. A private cloud provides the highest level of security and control.
Hybrid cloud
As the name suggests, a hybrid cloud is a combination of both public and private clouds. Generally, hybrid cloud customers host their business critical applications on their own servers for more security and control, and store their secondary applications at the cloud provider's location.
Multi Cloud
The main difference between hybrid cloud and multi cloud is the use of multiple cloud computing and storage devices in a single architecture.
Benefits of cloud computing
In our businesses and organizations, cloud computing offers a vast amount of benefits and importance. When we talk about data analysis, creating databases for your data and storage, cloud computing holds a great deal of benefits in this area. Abuja data school will be discussing how the cloud computing training in Abuja will let you realize how much cloud computing can enormously benefit your business.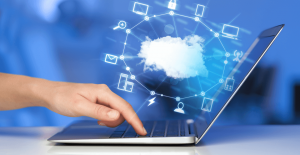 Cost saving
Once you are on the cloud, easy access to your company's data will save time and money in project startups. The cloud computing training in Abuja will help you know how you can manage your cost and time in cloud computing.
Security
Many organizations have security concerns when it comes to adopting a cloud-computing solution. After all, when files, programs, and other data aren't kept securely onsite, how can you know that they are being protected?. The key to this amped-up security is the encryption of data being transmitted over networks and stored in databases. By using encryption, information is less accessible by hackers or anyone not authorized to view your data. The cloud computing training in Abuja will be dealing with how you can proffer the best encryption system for your files and data over the cloud.
Flexibility
By relying on an outside organization to take care of all IT hosting and infrastructure, you'll have more time to devote toward the aspects of your business that directly affect your bottom line. The cloud offers businesses more flexibility overall versus hosting on a local server.
Mobility
Cloud computing allows mobile access to corporate data via smartphones and devices, it is a great way to ensure that no one is ever left out of the loop. Staff with busy schedules, or who live a long way away from the corporate office, can use this feature to keep instantly up to date with clients and co-worker. The cloud computing training in abuja will let you realize how you can be mobile at your duty post, and also get in touch with the office even when you are absent.
Quality Control
There are few things as detrimental to the success of a business as poor quality and inconsistent reporting. In a cloud-based system, all documents are stored in one place and in a single format. With everyone accessing the same information, you can maintain consistency in data, avoid human error, and have a clear record of any revisions or updates.
Loss prevention
With a cloud-based server, all the information you have uploaded to the cloud remains safe and easily accessible from any computer with an internet connection, even if the computer you regularly use isn't working. The cloud computing training will feed you up with how to make your files and data safe in the cloud at all times.
Automatic software updates
Cloud-based applications automatically refresh and update themselves, instead of forcing an IT department to perform a manual organization-wide update. This saves valuable IT staff time and money spent on outside IT consultation.
Sustainability
Cloud infrastructures support environmental proactivity, powering virtual services rather than physical products and hardware, and cutting down on paper waste and improving energy efficiency.
Tools used in cloud computing
Here, we will be discussing some of the tools to be used in the cloud computing training in Abuja data school.
Microsoft Azure
The cloud computing training in Abuja will be teaching us about how to properly use Microsoft Azure, which is Microsoft's public cloud computing platform. It provides a range of cloud services, analytics, storage and networking. Users can pick and choose from these services to develop and scale new applications, or run existing applications in the public cloud. The Azure platform aims to help businesses manage challenges and meet their organizational goals.
Cloudwatch
Cloudwatch allows cloud resources and applications running under the amazon services, enabling you to track and view instances. It gives you a brief insight into the overall health and performance of the system. This system can be used in a great way to optimize operations. The best part of cloud services is that you do not need to install any kind of software or invest in heavy installation services. The cloud computing training in Abuja will also imbibe in you, the way you can always monitor the performance of the system and the operations being performed.
Infrastructure Manager
The infrastructure manager is a great management platform in the cloud computing platforms list. It helps deliver intelligent analytics for infrastructure monitoring. It is a fantastic tool that is quite proactive in solving troubleshooting issues that might affect the loud infrastructure's performance. Without a doubt, this is a great tool that manages storage services, networks, and servers, etc. It depicts specific distinct patterns or analytics by mapping out the latest trends, simplifying the troubleshooting process, and reporting various activities.
Relic
Relic is one of the cloud computing software tools which is quite efficient in managing complex and ever-changing applications. It helps the servers running real-time and also gives an insight into the issues and resolves them quickly. It also allows you to scale your operations with the usage. It considers various processes and optimization of the apps, whether it is either mobile or web-based applications. It helps to place all the data in one place in the dashboard, which gives you a clear picture of every part of the cloud. These are many top-notch companies using this cloud structure. 
Solar Winds
This cloud computing monitoring tool provides cloud monitoring services and networking and database solutions. This cloud management platform allows you to monitor applications, servers, and virtual machines performance and health. It is encrypted with the infrastructure management tool, which can monitor cloud environments.
Retrace
It is one of the cloud-based tools designed for developers and designers helping with code and design development. It helps in tracking execution and ensures the developers create advanced coding at all times. The idea is to make the developers more productive with fewer complications and make the developer and designer much more manageable with much faster work.
Career prospects in cloud computing
Abuja data school will also be taking you through the career prospects you can fit into, after being equipped with the skill of cloud computing training in Abuja. Below are some examples of jobs common for skilled people with knowledge in cloud computing, including a brief job description of each role.
Cloud administrator
These experts manage a company's cloud presence and infrastructure. They develop, enforce and update policies for how employees and users access cloud services, establish security protocols and policies, monitor and ensure uptime, and assess the need for technology updates.
Cloud architect
Think of cloud architecture as the framework within which all other cloud technologies operate. The cloud architect is something of a general contractor, the one who designs and implements a company's cloud computing strategies. They ensure that everything stays on track, on budget and that the company's transition to cloud operations goes smoothly.
Cloud automation engineer
As the world becomes increasingly automated, cloud automation engineers are necessary to build, implement and maintain this automation technology as it migrates to the cloud. This automation frees up human workers from repetitive tasks.
Cloud consultant
A cloud consultant has broad knowledge of cloud technologies and provides guidance to companies looking for cloud-based tools. Typically, this expert will assess a company's needs and suggest software and devices to best meet that company's technical and budgetary needs. The consultant may also help transition to the cloud by designing migration policies and selecting appropriate platforms.
Cloud engineer
Cloud engineers are responsible for the managerial aspects of a company's cloud strategies. Engineers often work alongside architects to ensure a company's cloud strategies are implemented, but they also do the administrative work of negotiating with clients and vendors to keep everyone on task and within budget.
Cloud security analyst
Cloud security analysts have the responsibility of ensuring the integrity and security of a company's cloud presence. They do this by assessing threats and shoring up defenses against them, preventing data breaches, securing data and eliminating security gaps if a breach occurs.
Cloud software engineer
Cloud software engineers work with programmers and related computer scientists to develop software that operates in the cloud. These individuals are usually also responsible for upgrading, repairing and maintaining the software they develop and databases they power.