Managing a business efficiently can be a lot of challenge because  of the hassles of keeping financial records clean; incomes and expenses  need to be tracked,  employees paid, inventory taken, and all the aspects of your business running.
Luckily, there are tools you can use to keep your business organized and monitor the financial health of your business.
QuickBooks  and Sage 50 are the two most popular tools you can choose from to help with all the crucial aspects of your business financial operations. They are both important and offer slightly different services with certain services that overlap.
This QuickBooks and sage 50 Training  in Abuja, Nigeria by  Abuja Data School will benefit you if you are;
A business owner

An accounting Professional,

An Accounting  student and
Someone who wants to be equipped with the right software accounting skill to benefit any business
What is QuickBooks Accounting Software?
QuickBooks is a business management software used for bookkeeping and accounting. The package  provides solutions that small to medium businesses can use. It works to organize the financial records, reports and data of your business so you  can easily understand and manage them. QuickBooks offer both cloud-based and desktop programs with various versions your business can choose to work in.
 QuickBooks Online, QuickBooks Pro, QuickBooks Self-employed, QuickBooks Premier, QuickBooks Enterprise are just some of the versions of QuickBooks and they vary in their features, price and usability.

Benefits of QuickBooks Accounting Training in Abuja
QuickBooks offer the following benefits for your business:
Keeping track of income, bills and expenses.

Printing Financial statements like Profit and loss Report, Balance sheet report and Statement of cash flows.

Creating invoices that can be mailed to customers  or printed, and  also tracking invoices.

Scanning, uploading and matching-up receipts with corresponding transactions.

Tracking Employees work hours and running payrolls.

Tracking inventory

Accepting payment online

Synchronizing with bank and credit card accounts.
Overall, QuickBooks  saves the time and energy of your business, makes available ready-to-use templates used to create invoices, charts, spreadsheets and business plans and it is  usually easy to use with a user-friendly interface that guides the user through each of its features.
What is sage 50 Accounting Software?
Sage 50 is an accounting software with more advanced solutions primarily for book keeping and financial management. Sage 50 is best suited for large companies and enterprises and has been designed with the professional accountant in mind.  Sage 50 offers a few basic accounting features- It cannot perform all the bookkeeping functions of your business. Sage 50 helps to keep employees on-task when working on collaborative projects.
 The sage 50 software package offers both cloud based and desktops options and has various products your business can choose from. Sage 50 shares some basic similarities with QuickBooks, with Sage 50 being the most comparable to QuickBooks.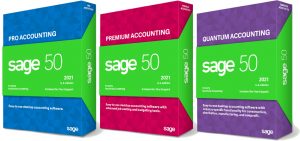 Benefits of sage 50 Training in Abuja
Sage 50 software provides the following benefits for your  business:
Tracking income and expenses

Invoicing Customers

Managing projects using cloud options

Collaborating between multiple employees:
Pros and Cons of QuickBooks and Sage 50
Pros of QuickBooks Accounting Software
Saves time

User- friendly

Affordable  prices

Good accounting features

Has cloud- support options

Flexible with third- party applications
Cons of QuickBooks Accounting Software
Limited number of users

System crashes occasionally

Limited personalization options

Lacks some industry- specific features
Pros of sage 50 Accounting Software
Collaborates between many users on  a single project

Has cloud-support options

Personalized  invoices

Offers expert knowledge and support
Cons of sage 50 Accounting Software
Not as user-friendly as other software

Difficult to set up
QuickBooks vs Sage 50
Similarities
The most comparable Sage 50 solution to QuickBooks is Sage 50. Beyond that, many of the similarities stop. These are the similarities that exist between QuickBooks and sage 50:
Both QuickBooks and Sage 50  offer a suite of mobile apps which users can use to perform core functionalities.
QuickBooks and Sage 50 software have free trials that allow users  to test the software for  a limited number of days.
 Users  can access both QuickBooks and Sage 50 from any internet connected device and all data will synchronize across all devices.
For QuickBooks and Sage 50, users can choose from a range of various products.
Differences
The solutions provided by QuickBooks are best suited for small and medium sized businesses, whereas Sage 50 solutions are directed at larger companies and enterprises.
QuickBooks is a general bookkeeping and accounting software, whereas sage 50 is a more advanced software with  solutions that offer  functionality for Project management, Human Resource(HR),  stock and inventory.
With QuickBooks free trial,  you need to submit your credit card data. However, you can try the Sage 50 Software for free without submitting your credit card data.
QuickBooks bases it's pricing on the features- the more you pay, the more you get whereas sage 50 charges depend on the number of users that require access to the software- the more collaborators on a project, the higher the price.
How to choose between QuickBooks and sage 50
When deciding between QuickBooks and Sage 50, you'll need to consider many things. You'll need to;
Consider the size of your business: QuickBooks and Sage 50 will do for small businesses.
Determine the number of employees on a project: sage 50 is best if it's  more than one employee working on a project.
Check the size of your inventory': QuickBooks is suited for small inventories whereas sage 50 is best  suited to handle robust Inventories.
Look at the ease of use:  QuickBooks is user-friendly. It synchronizes  with bank accounts making  this system easier to use than more advanced programs.
List the basic requirements you want from a software package.
Identify  which are the most relevant products within the ranges for your business.
Seek advice from your accountant to  help you decide on the best package.
How does Abuja Data School fit in?
At Abuja Data School, we have a team of skilled IT professionals with excellent knowledge in IT related fields.
We  organize IT training in Abuja, Nigeria to meet our clients needs.
We are passionate about helping you grow your business by providing you with the necessary IT skills you need to be an expert.
Visit us at our training facility or call our customer care line to learn more on the features, pricing and set up of QuickBooks and sage 50.